Instagram Tips & Tricks 2021
The world of social media is constantly changing, and Instagram is no exception. With new trends emerging every day on the app, it can be hard to keep up with what you're supposed to know. Luckily for you, we've put together a list of some of the most noteworthy Instagram trends for today!
The platform is moving from images to videos in 2021
Photos are being liked less on instagram compared to videos. This is because people want content that's more engaging than a static photo, such as video or live streaming. People find it easier to get information about instagram trends through short, snappy videos rather than long paragraphs of text on your page.
A post with only an image may not get enough engagement for the user who created it to be satisfied; whereas someone can share their thoughts and engage in conversation through video which means they'll likely feel like they've had a richer experience and find meaning out of what you're saying in your message.
Instagram Reel upgrades
Instagram Reels now can be longer than one minute. This is an interesting instagram trend to watch because it will have a lot of implications for what people post next year on the platform, and how they are able to connect with their audience through that content. 
Best times to post on Reels
Choosing the single best time to post on Instagram Reels can be tough, Influencer Marketing Hub analized more than 100,000 short-form video content posts to find the best engagement rates (all times in EST, ignoring sectors):
Monday: 6 AM, 10 AM, 10 PM
Tuesday: 2 AM, 4 AM, *9 AM
Wednesday: 7 AM, 8 AM, 11 PM
Thursday: 9 AM, *12 AM, 7 PM
Friday: *5 AM, 1 PM, 3 PM
Saturday: 11 AM, 7 PM, 8 PM
Sunday: 7 AM, 8 AM, 4 PM
Times marked with * had particularly high levels of engagement.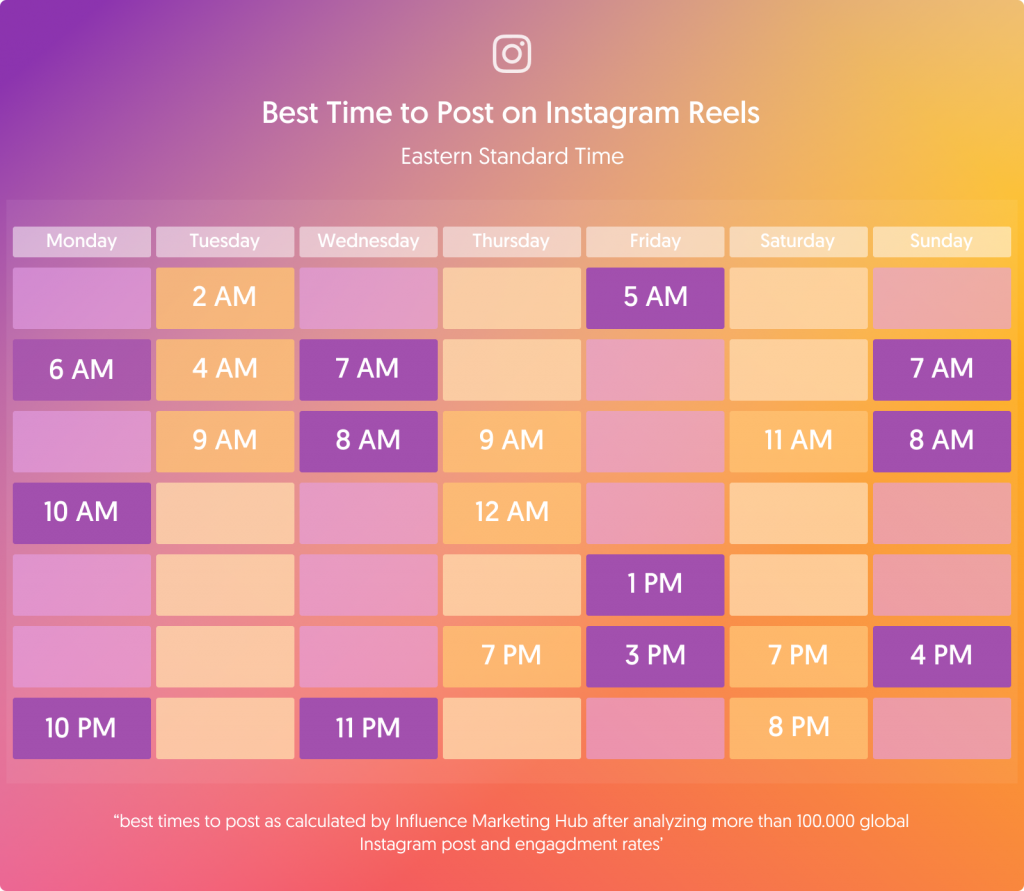 Owning your Instagram feed
In 2021 Instagram introduced the ability to customize what people see when they scroll through their feed by hiding posts from certain accounts. This instagram trend is important because it allows for a greater sense of ownership over one's own content, and an opportunity to control how much time on instagram is spent seeing content from specific people.
Ads and sponsored content in direct messages
In 2021 Instagram's parent company Facebook introduced ads into direct messages. This allows influencers or brands, who want to reach new audiences more easily, the opportunity to do so by paying Instagram per message of advertising content.
Instagram Live for marketing
Instagram live is a relatively new instagram trend that's been around in the last few years. We encourage businesses to be more active on Instagram, but always keeping the audience in mind. Going live is great to bond with your audience and present yourself as an authentic business owner (or brand). 
Use stories to promote when you'll go Live, to have more viewers. 

Use the "join me" option to have guests on your Live episodes

Turn your Live episodes into a series on IGTV
Instagram Live and Reel insights
Instagram is rolling out insight updates for reels and IG live, aimed at businesses and creators. The new features will include insights on audience locations, how people interacted with the video, and more.
Instagram Explore Page's UI has been updated
The new instagram UI update might have been what you were all waiting for. In 2021, instagram had finally changed the design to make it more user friendly and easier on the eyes. The old instagram explore page was replaced with a photo grid that gives your feed a clean look. Users can now scroll horizontally through their instagram feed, making it easier to see what is going on with friends and family.
Shorter videos are in
There was a shift towards short form ads because they're less intrusive than long ones. This trend illustrates how businesses see instagram not just as another place where they need to put out advertisements but instead look at instagram as an opportunity to engage customers directly about what they offer while giving them value.
In conclusion
We've compiled a list of Instagram trends you should be using in your marketing strategy today. Some are old favorites, and some are new to the scene. The best part is that all these strategies can be used for any type of business! No matter what industry you're in or where your company falls on the social media spectrum, there's something here for everyone.
Want more? Check out our upcoming Instagram Bootcamp series with up-to-date trends, how to's, and growth strategies that any business can implement today! 
What trending topic would you like us to cover next time? 
Let us know by tagging @coachjessicacampos and @marketingforgreatness so we can get even closer to connecting with you!