If you are planning to accomplish your goals in any endeavor, a detailed map with exact markers and turns that takes you from the entrance of the trail to the top of the mountain will make your life easier.

If you either lead or are apart of a Software sales company, you know that such a map is a fallacy and that your life will never be that easy. So if you are looking for steady cash flow with a cook book full of recipes to pre-heat at 425 for 40 minutes, Software sales is not for you. However, if you are open to learning how to navigate a 100 foot ship through rough, dark waters while there may be holes in both the bow and stern and a fire on board, you may have the mental fortitude to make it selling Saas.
What is Saas anyway?
Software as a service (SaaS) is a software licensing and delivery model in which software is licensed on a subscription basis and is centrally hosted.

Software as a service (SaaS) allows users to connect to and use cloud-based apps over the Internet as referred by Microsoft. SaaS has been incorporated into the strategy of nearly all leading enterprise software companies.

Gartner predicts SaaS revenues to reach $85 billion in 2019. Globally speaking, Gartner predicts that by 2021, cloud revenues will total $278 billion.

By revenue, Microsoft is the largest worldwide provider of SaaS services, with 18% market share. Salesforce is in second place (11.5%) and Adobe is third (6.7%) (Synergy Research Group).
A Saas (Software as a Service) business can be very rewarding and lucrative.

While there is no set formula for success, from my experience in selling Saas for over a decade there are ten potential strategies that can be put into play that can help Saas leaders and their sales teams to steer the ship safely to arrive on land.

Here are 10 ways to for Saas sales leaders close more deals and to make your Saas Sales model more profitable.
The first five are more operational and the second five are tactical to sales transactions.

Number One: Competitive revenue model- Follow a Saas revenue model that appeals to your target market
Annual Contract Value, Total Contract Value, Multi-years upfront?

Your Saas Model of how you will charge your customers is going to be very important.
Why? It does not matter how great of a sales person you are or how great your sales team is, if the way that you charge for your product is not parallel to what works for your average customer, you can expect customer churn to be very high.

For example, if you are selling to public sector customers, obtaining long term commitments upfront can be challenging and often misleading on future projections. Why? These types of customers often cannot make a commitment to be your customer for more than one year at a time as they do not know what future approved budget will be. This is just one of many examples as to why you want to choose the right revenue model for the market that you sell to.
Number Two: Timing is everything- Forecast your sales based on your predicted saas sales cycle
You can be the best closer, but if you are selling higher education technology solutions, where the funds become available to buy your solution at one given time per year, you need to plan accordingly. Deals will only officially close when funds are available, not when you obtain the buy-in of your relationships. Equally, commercial customers tend to close more often at the end of the calendar year in order to spend budget remaining. It all comes down to what time of year can procurement provide to you the purchase order.

Typical Fiscal Year Starts

Commercial/Corporate………January 1st

Higher Education……………..July 1st

Public Sector…………………July 1st or October 1st

Federal………………………..October 1st

Number Three: Duplication- Follow a clear Saas sales playbook or sales methodology
Many organizations love to hire people with experience who "just know" how to do it. You will always hear things like "You can't learn to ride a bike at a seminar." While this may be very true, you can not grow and scale your sales team unless everyone is speaking the same language. The easiest thing to do is to subscribe to one of the more popular sales methodologies like Sandler, Challenger, Solutions selling or Miller Heinman. Which one of the sales systems that you choose as your playbook is not as important as the fact that you choose a playbook that has brought organizations success in the past.

Sandler Sales- https://www.sandler.com
The Challenger Sale- https://www.challengerinc.com
Solutions Selling- https://www.spisales.com/solutions/solution-selling/
Miller Heiman- https://www.millerheimangroup.com/training/

For sales discovery, my personal preference is the Sandler Sales Method. For sales presentations, I like the Challenger Method. A great qualification model that many companies prefer is MEDDIC. This is particularly used in enterprise level transactions.
Number Four: Marketing- Invest as much in Saas marketing as you do in your Saas sales team.
Cold Calling and mass email capaigns alone will not suffice with today's very sophisticated buyer. Saas marketing tools like marketing automation software, analytics, and search engine marketing/ search engine optimization are critical to you driven leads for your sales team to work on.
Number Five: BDRs- Consider hiring business development representatives
With today's long, everlasting and more complex sales cycles, your sales teams will be busier than ever before. This means that there will be less time to prospect and generate new business. Hiring a business development representative (s) may be critical to gradually driving leads into opportunities over time.

A good Business Development representative (BDR) will be able to both 1) respond to engaged leads from your current marketing campaigns and 2) Source new leads through their own outbound efforts. The goal of you to hire a BDR or BDR team is to generate new leads/prospects for your sales team to speak with.

Here is an example of a Business Development Representative job description:
PRIMARY DUTIES:

Identify sales opportunities and produce strong leads; initiating calls for new accounts; responding to inbound inquiries from potential clients.

Meticulously record, plan and prioritize your activities to achieve agreed business aims.
Collaborate with internal resources to qualify sales leads and prospective clients.

Ensure a smooth transition to the sales team once the prospect has become regular clients.
Work towards excelling industry standards.

REQUIRED QUALIFICATIONS AND SKILLS

Software or Software as a Service (SaaS) sales experience is a plus.
Construction or Lending/Financial experience is a plus.
Strong researching skills.
Strong communication and interpersonal skills.
Strong relationship management skills; ability to build relationships and work well with others.
Highly motivated and persistent personality with a strong commitment to achieving company sales goals.
Ability to multitask while learning new information about the client base and the industries Land Gorilla serves.
Working knowledge of MS Office, Google Drive, and comfortable learning sales software.
Dedicated to being an expert in your field and providing a high level of customer care.
A desire to succeed in a sales role and develop your skill set.

I would make it a point to not overcomplicate the hiring of a BDR. You will know very quickly if the person generates qualified leads or not.

So there you have the first five strategies to increase deal closings. The first five are more tailored to helping you the sales leader and your team identify the right business model to make your efforts more profitable.

The next five strategies will be more tactical in nature and will prescribe specific selling tactics.
Number Six: Relationships- Don't sell until you have permission to sell
In some industries, the mantra is ABC Always be Closing. Not in Saas sales. Your job is to treat your prospect as a potential patient and you are the doctor. If you cannot gain enough information to diagnose your patient, then you do not write for them a prescription. If your prospect does not have the pain that your Saas product solves, you cannot sell to them.

Compared to other sectors, relationships play a big factor during technology sales cycles. Dr. Kim, Director of Digital Learning Initiatives at the Dartmouth Center for the Advancement of Learning, explains, "in the high-tech world of companies turnover is normal and expected. In higher ed, we tend to stay at our institutions for a long time, and we build relationships over decades."

Take a look at the diagram above in Figure 1.2. You will see the difference in the typical processes between Enterprise Sales and SMB (Small-Medium business sales). With Enterprise sales you cannot begin to sell until you meet and form the relationship.
Number Seven: Account tiering. Know that you don't have a deal until you have all of the decision maker's at the table.
The Challenger sale says that "the average number of customer stakeholders involved in a B2B purchasing decision is 6.8 — up from 5.4 in late 2014." (need link)

See in Figure 1.3 the breakdown of the different type of decision makers within an organization according to the Challenger sale and their likely impact on driving organizational change. To learn more about the different types of buyer profiles in an organization, please read this overview.
Number Eight: Budget- Talk budget relatively early
While you should never discuss price upfront without being asked, you need to verify if budget is available for your purchase. If it is not, consider where the funds can come from and how important purchasing your Saas solution is.

The last thing you want to do is take up your time for the wrong reasons if the pockets are empty.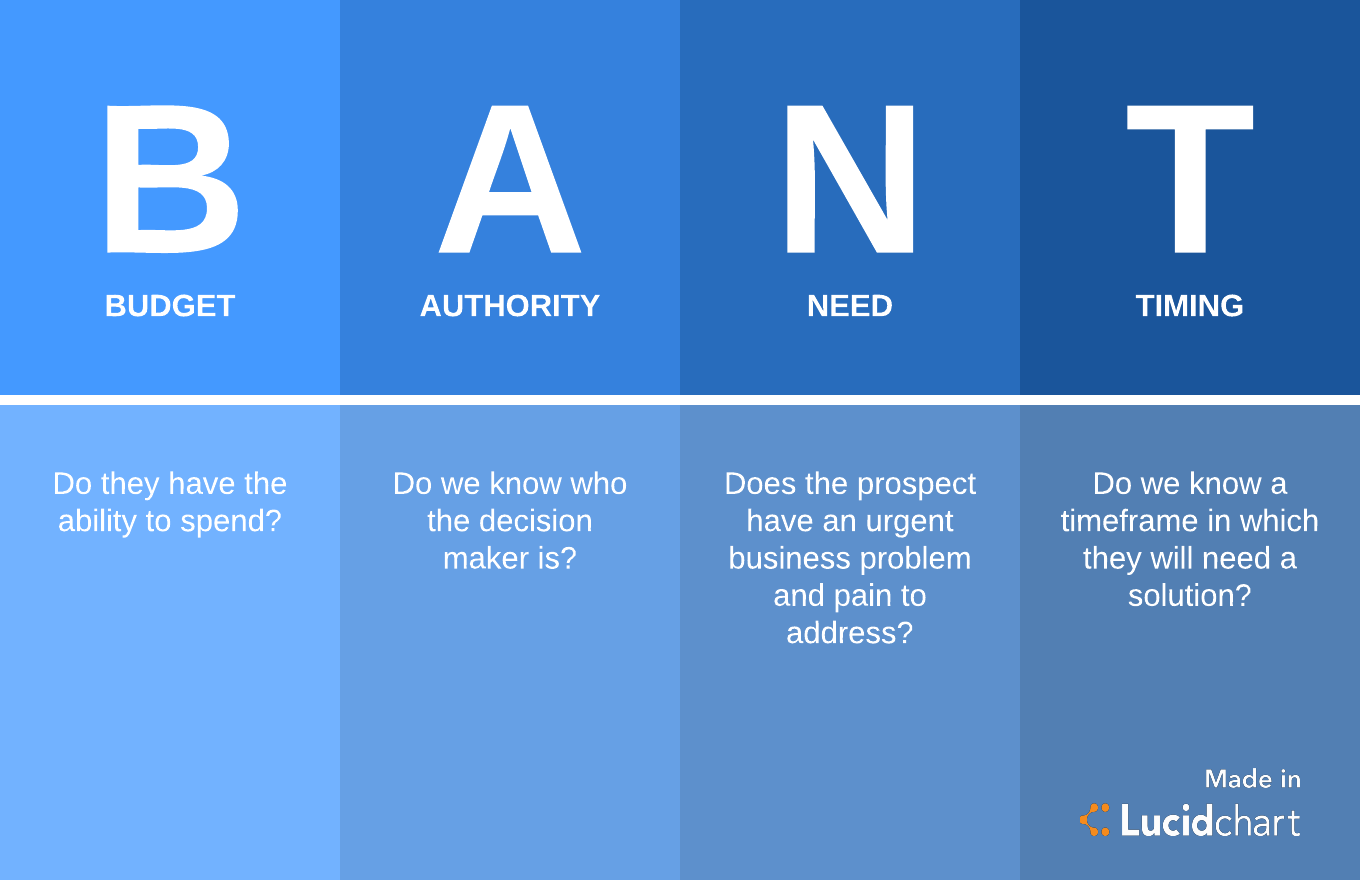 Figure 1.4

In Figure 1.4, you will see the most basic sales model that exists in B2B sales known as BANT. This is very popular due to its ability to be understood with ease. You will notice that qualifying budget is the first step in the sales process.
Number Nine: Your product- Don't sell the technology, Sell the concepts
All Saas applications and solutions may be technical but the technology is not what sells. What sells are the solutions that the technology provides to the end user. Also, the people who write the checks and are the final say in making a purchasing decision, are often not technical.

What business value proposition does your product/solution provide to the end user? Can your solution help them increase more revenues or save costs? Can it shorten the time of a particular time consuming process? What is the benefit?

Simplicable covers examples of how you can take what a product solution does technically and change the messaging to illustrate how the solution helps the end user.
Number Ten: Low hanging fruit. Upsell your existing install base.
If you have a high customer retention rate, you can likely sell more products and solutions to your existing install base. Typically around 25% of all sales year over year will be to your existing customers.

Figure 1.5

The above figure shows that most of the revenue that your company earns will come from a combination of renewals, upsells and cross-sells.
Summary

Saas is an industry that will continue to see tremendous growth. Amazing growth, however, must be captured the right way. The Saas sales model is based on a product that is technical, but the solution is conceptual and based on value. The audience that you are selling to will be complex in both make-up and in needs solved. Budget and Operating cycles are equally as complex when selling Saas. Saas sales teams and sales reps need help with marketing and possibly with business development representatives to generate qualified prospects.

The Saas industry is very rewarding to work in. Stay tuned for my next article where I will dig deep into the different types of Saas revenue models.